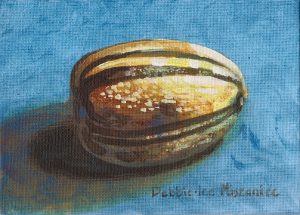 The Sunflower Project is an ongoing initiative which symbolically affirms the multiplying power of positive action in the world through the gift of a sunflower seed painting.
To learn more, and sign up for your #payitforward gift of a sunflower seed painting,
Go to The Sunflower Project page!
Debbie.lee Miszaniec BFA
GIVING THANKS
NOTICES
CLASSES: Discontinued as of January 1st, 2018. Endings are sad, but they clear the way for new beginnings. To that end: art classes, art parties and Artist on a Mission programs will no longer be offered. Thank-you to all of the marvellous people I have shared my love of art with! I hope you will all stay in touch.
FRESH ART
City Painted Utility Box:
2018 Marlborough Community. Theme – Home
Check out the Public Art Gallery for the latest! 
EVENTS
Dime Novel Series:
History Rewrites The Victor
12 x 16 O/C
Dime Novels: Buffalo Bill – An Artist Talk
November 22nd 2018 2 PM
Coming this fall to Heritage Park Historical Village and Museum. Check Heritage Park for details!
Multifaith Calendar 2019
Multifaith Action Society of BC
The Giving Sunflower, from The Sunflower Project, will be making an appearance in the 2019 Multifaith Calendar. Visit MFAS to order yours!
Medium of Exchange: Process
April 2020
Stay tuned for details on the 10 year reunion show of Medium of Exchange: Debt, involving all the original artists: Jesica Campbell, Penny Chase, Jessica Hauser, myself, and Koren Scott!